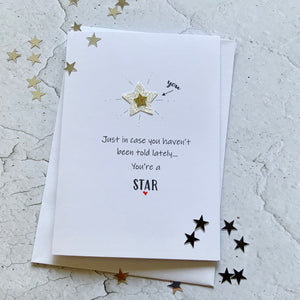 Sometimes you need to let people know how amazing and special they are and this card does exactly that. It features a gorgeous shiny star which is shining bright, the word "you" and a little arrow pointing to the star with the words:

"Just in case you haven't been told lately .... you're a star"

Made From:
This card is drawn on white 250 gsm card, the inside is left blank for you to write your own message and it comes with a white envelope.
Please note that these cards are handmade by me and therefore each one I make is completely unique and may differ ever so slightly from the picture shown, don't worry though, I promise it'll always be ultra-cute!

Size:
The card is A6 portrait (148mm x 105mm)