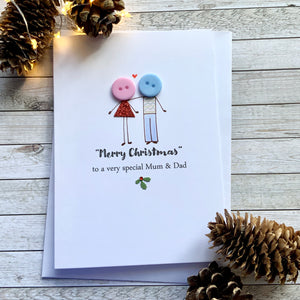 If you would like me to send this card directly to your Mum & Dad with your own personal message, please click here.
This gorgeous button card has a cuddly festive couple on the front, complete with Dad wearing Christmas jumper! (sooo cute!) and Mum in a sparkly dress,

The wording reads: Merry Christmas to a very special Mum & Dad

Made From:
This card is hand drawn on white card stock by me, each card is unique and may differ ever so slightly from the pictures, it'll always be super-cute though so don't worry. It comes with a plain white envelope.
Size:
The card is A6 portrait (148mm x 105mm)
The inside of this card is left blank for you to write your own message.