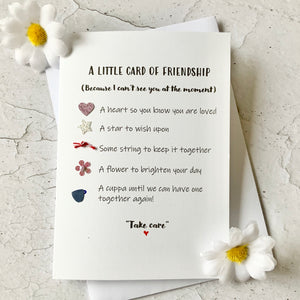 If you would like me to send this card directly to the recipient with a personal message, then please click here

This little card of friendship is perfect to send to your friends who, for whatever reason, you can't be with at the moment.
The wording reads:
"A little card of friendship" because I can't see you at the moment.
A flower to brighten your day
A star to wish upon
Some string to keep it together.
A heart so you know you are loved
A cuppa until we can have one together again
Made From:
This card is printed on white card stock by me with embellishments added, each card is unique and comes with a white envelope.
Size:
The card is A6 portrait (148mm x 105mm)
The inside of this card is left blank for you to write your own message.