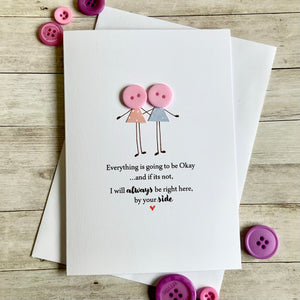 If you would like me to send a card with your own personal message direct to your best friend, please click here

The road ahead can seem scary sometimes and we all need reassurance from time to time that everything will be Okay and that if, form some reason, it's not, we will have someone beside us to help us through, this little card carries that very important message to someone to remind them they are not on their own.

Wording reads:
"Everything is going to be Okay... and if its not. I will always be right here, by your side"

Made From:
This card is printed on white card stock by me with embellishments added, each card is handmade and therefore unique which means it may differ ever so slightly from the image shown, don't worry though, it will always be super cute and made with 100% love. Each card comes with a plain, white envelope.
Size:
The card is A6 portrait (148mm x 105mm)
The inside of this card is left blank for you to write your own message.